A wedding website needs to be stylish and should match your personality. To make it easier for you, we have collected 18 modern and stylish WordPress wedding themes that you can choose from.
Our staff spends thousands of hours research, test, compare and recommend the best products. We may receive commissions on purchases made from links on this website( Without any extra cost to you ).
Grand Wedding WordPress – Review and Download
Description
Grand Wedding WordPress Theme is responsive and clean. It's suitable for any wedding-related website. The latest WordPress technology was used to create this theme.
Grand Wedding supports responsive layouts so that it works well on any device. You can import any of the pre-designed styling and templates, as well as many other features, which are specifically designed for wedding, engagement, and wedding planners.
---
Wedding Event – Everline WordPress Theme – Review and Download
Description
Everline Wedding is a WordPress theme that has a simple and elegant appearance. It can be used for Weddings, Engagements, and any other events.
You will be able to create a stunning wedding website for your most memorable day with its beautiful beauty and clean execution.
Everline is RTL-compatible and will automatically adapt to your device's screen size and present all content in an easy and intuitive way.
---
Wedding – Responsive Single Page WordPress Theme – Review and Download
Description
A powerful, single-page, responsive WordPress theme called Wedding. This theme can be used to create wedding-related websites. It is easy and flexible to personalize.
---
Dexter – Elegant Wedding WordPress Theme – Review and Download
Description
Dexter – Wedding Agency Corporate Theme. Ideal for people who organize weddings and help with event planning. This template is great for creating a wedding catalogue or gallery. It can also be easily modified to suit any needs.
The best colors and fonts can convey the elegance and mood of your wedding ceremony. Easy templates make it easy to quickly create your pages.
---
Bibaho – Wedding WordPress Theme – Review and Download
Description
Bibaho WordPress theme is responsive. This is a modern and elegant theme that can be used for your wedding. This template was built using modern tools such as KingComposer and Onclick Demo Importer. We added two types of menus. Sliders for the After and Top.
Bibaho have used almost every kind of feature we could find for weddings: details about the couple, love story, countdown, Groomsmen, Bridesmaids and Events. Use the contact form 7 to send an email. This unique website design is perfect for those who wish to create their own wedding website. The Bibaho looks amazing on both desktops and mobile phones. It's simple and clean.
---
Moments – Wedding & Event Theme – Review and Download
Description
Wedding day is very important for most people. Organising a wedding can be overwhelming. Let people have the wedding of their dreams and become their favourite wedding planner. Moments, a elegant theme for wedding planning, is perfect for event planners and planners.
This beautiful collection of templates will make your wedding memorable. Moments is carefully designed to ensure that your visitors find everything they need for their white wedding. This includes a custom-made wedding invitation. You can also sell all kinds of items in this shop.
---
Alanzo | Personal Chef & Wedding Catering Event WordPress Theme – Review and Download
Description
Alanzo, a responsive and elegant restaurant WordPress theme is perfect for caterers. This theme is also great for personal pages if you're a professional chef and want to promote your catering services at special occasions like corporate events or weddings. This template can be used for any type of restaurant or cafe.
Alanzo is a modern and interactive theme that offers amazing functionality. You can showcase your menu in beautiful ways with the theme.
This theme is fully responsive and Retina-ready. Your site will look great on any device, no matter how it is accessed.
---
WoWedding – Wedding Oriented WordPress Theme – Review and Download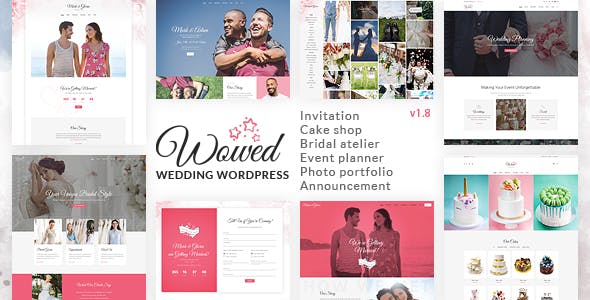 Description
WoWed WordPress theme is a responsive wedding announcement, wedding invention, wedding event planner, cake shop, and wedding photography WordPress theme. This theme was based on the top websites. This template contains pages such as RSVP, Pinterest Portfolio and Gift Registry. It also includes 4 pages for Wedding Announcement.
The website can be used for all types of wedding agencies, event planners, and even bakery shops.
---
Trousseau – Bridal Shop WordPress Theme – Review and Download
Description
The perfect combination of elegance and modern design is Trousseau! Trousseau is a modern theme for bridal shop websites.
Trousseau comes with all the bridal templates, shops, and wedding templates, along full Elementor Page Creator compatibility. It is perfect for any bridal shop, boutique, or wedding shop website.
---
Phoxy – Photography – Review and Download
Description
This theme includes galleries, photos, events, proofing and blogs to help photographers create unique websites. This theme can be used by photographers as well as weddings and fashion blogs.
You can create as many page layouts with this photography WordPress theme as you like. PHOXY includes 30 home pages, 13 album templates, five blog types, 15 gallery types, 14 galleries, clients, and a booking page. You can choose from Service, Contact, About me/us, or Contact layouts. With our easy demo importer, you'll be up-and-running in no time. No coding is required.
This theme was created with the highest quality photography in mind. It is ideal for use on mobile websites and apps. Each page element and feature will be stunning on mobile devices and tablets. This includes professionally-designed layouts and page templates that are designed to provide the best visual experience on the current market.
---
Luminis – Photography WordPress Theme for Wedding, Travel, Event Portfolios – Review and Download
Description
The WordPress theme Luminis has a professional and minimal look. This theme can be used by photographers for weddings, portraits, landscapes, fashion and lifestyle. Photographer, photographer agency, designer, artist, blogger to show their portfolio.
Luminis offers many features that allow you to personalize your website and showcase your creative talents. These include portfolio templates and blog layouts as well as fonts, colors and other options. It looks fantastic on every device for an enjoyable user experience.
---
FlatLove – Flat Onepage Wedding WordPress Theme – Review and Download
Description
FlatLove WordPress theme is one page responsive and can be used by creative couples to present their wedding event in an elegant flat style.
FlatLove was designed to be simple so that your wedding can stand out among the rest.
FlatLove contains every element a template for a wedding website should have, so you can easily create your dream wedding website! FlatLove includes a variety of beautiful, ready-to use homepage sections. These are designed to be useful for wedding website elements.
---
Gretna Green – Wedding Theme – Review and Download
Description
A WordPress theme that reflects special moments is a great choice! Gretna green is a beautiful theme that blends elegance and gentle colors. It's perfect for creating a wedding website.
GretnaGreen is a beautiful collection that includes a stylish gift registry and invitation cards, as well as a variety of layouts.
---
Neeqah – Wedding WordPress Theme – Review and Download
Description
Neeqah, our most popular WordPress wedding theme, is perhaps the most beautiful. You can easily set up your own wedding website with its many features.
Neeqah's work is amazing. You can easily control your homepage's layout with drag-and-drop.
---
Bridey – Bridal Store WooCommerce WordPress Theme – Review and Download
Description
The Bridey theme is a WooCommerce WordPress Theme for Bridal Store WooCommerce. It allows you to create a wedding shop or bridal shop and sell gorgeous dresses, suits, and other decorations.
There are six homepage examples that include stunning features, so you can pick the one you like best. Elementor's page builder plugin allows for easy customization. This theme features creative, fun images of the couple that will grab people's attention on its homepage.
Drag and drop page builders make it easy to edit pages. This theme is optimized for speed and includes dedicated support in case you have any difficulties. You will also receive a lifetime update for WordPress. This allows you to keep your website up-to-date with new trends.
---
Qaween – Wedding WordPress Theme – Review and Download
Description
Qaween, a WordPress theme packed with features that will help you create the perfect wedding website for your bride and groom on WordPress.
Qaween can be customized in many ways. You can alter the color of any element, the font, and even choose from over 500 Google Web Fonts that are available within our theme options.
Redux Framework is Qaween's theme options framework. The theme options offer hundreds of customization options that can be used to customize your theme. The theme comes equipped with AJAX RSVP forms, photo galleries, events, slideshows, accommodations, and countdown timers.
---
Pinhole – Photography Portfolio & Gallery Theme for WordPress – Review and Download
Description
Pinhole, a WordPress professional gallery theme is designed to make it easy for you to create beautiful websites with your photography. It features a variety of gallery layouts that will suit every photographer's needs.
We have everything you need to create a website that showcases your photography portfolio and offers photography services. We offer professional photographers a variety of useful features, including a restricted client area and right click protection. You can also download images and proof your work.
---
Missio – Photography WordPress – Review and Download
Description
Missio is a photography WordPress theme packed with blocks and niche functionality. Missio is an elegant and unique theme that professional photographers and studios can use.
This theme includes galleries, gallery, events, proofing and photography. It also has pricelists, pricing, blogs, and other useful features that allow photographers to make their own website. This theme can be used by photographers and studios alike, but it could also work for creative agencies, blogs, fashion websites, or art blogs.
This theme can be used for more than just photography and it could also easily be modified to fit a variety of other applications. Missio has layouts that allow you to create unique websites for events, weddings, fashion, still life, nature, commercial, or food photography.
Missio, which is responsive, was created with high-end research. It is an ideal theme for websites and apps that are mobile friendly. Every page element and feature will be stunning on mobile devices and tablets. This includes layouts and page templates that are specifically designed to create the most responsive visual environment available today.
---